RBC Group of Companies
In 1993, the first Russian information agency RBC was established, specializing in business news
In 1995, RBC was the first information agency to create its own web site on the Russian Internet
In 1996, RBC was the first to create a Russian online system with information on the course of trade from Russian stock exchanges
In 1998, RBC became the No. 1 Internet resource in Russia in terms of visitors
In 2002, RBC conducted the first Russian IPO on domestic exchanges
In 2002, RBC became the fastest growing Russian company, according to the Deloitte Touche Tohmatsu 2002 European Technology Fast 500 rating list
In 2003, RBC launched the first Russian business television channel
Who we are
The RBC Group operates on the mass media (an information agency, business television channel RBC TV, online newspapers, and marketing communications) and IT (RBC SOFT) markets.
RBC's news strategy is based on the principle that only primary sources of information are proven reliable. RBC provides its clients with all necessary information and creates cutting-edge technological ways of delivering it. Our main goal is to foster Russia's integration into the global information and economic community with the help of hi-tech solutions.
Our success is the best form of proof that Russian businesses are capable of meeting postindustrial economic standards without any support from the government or big businesses.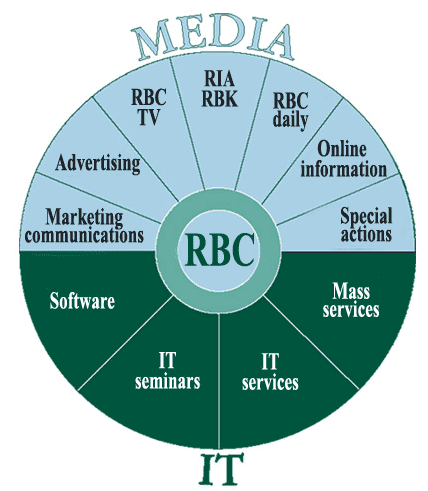 Whom we work for
Everything we do is for those who play a key role in the establishment of modern Russia, i.e. those counting on themselves, on their intellect, talents, knowledge and workability. RBC provides them with information and technology that helps them to succeed.
Our core audience is represented by people with higher education and above-average incomes. These people understand what they are looking for, know how to achieve their goals, analyze risks and are familiar with ways of minimizing them. RBC's media business reaches the largest business audience in Russia, which makes the company a unique advertising platform.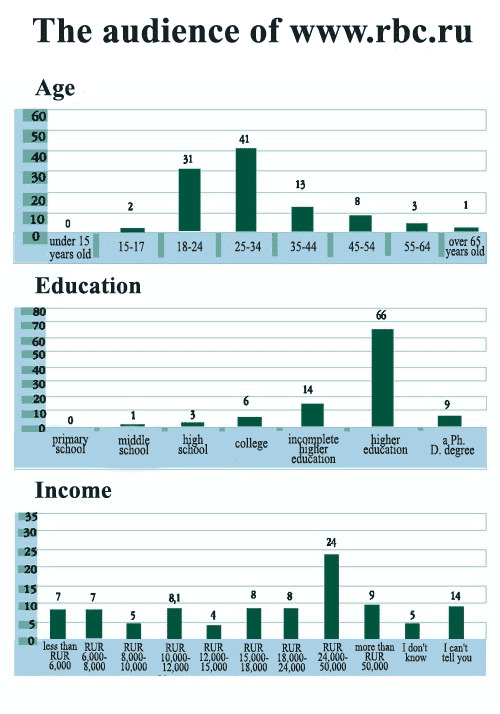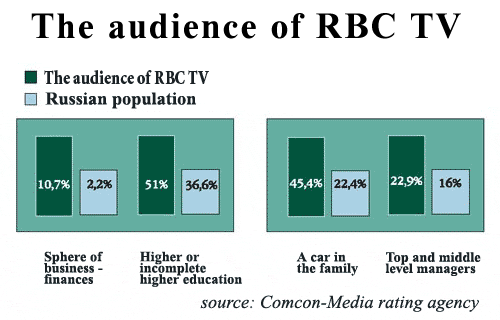 We are the talk of the town
Sergei Mironov, chairman of the Russian Federation Council:
"RBC is an efficient combination of strong media resources and modern hi-tech solutions, which is quite a unique thing for Russia."
Alexei Kudrin, Russian finance minister:
"For more than a decade RBC has been among the leaders of the Russian business information and IT markets, and, which I consider very important, has been meeting the best corporate governance and information transparency standards."
Anatoly Chubais, CEO of RAO UES of Russia:
"RBC's online daily news and financial data along with impressive corporate and industry-oriented statistics have become an important and integral part of the everyday life of the Russian business community."
Georgy Boos, vice speaker of the Russian State Duma:
"RBC's materials are always up-to-date, true, and, most importantly, they are unbiased."
RBC's business branches
Media
The Russian information agency RosBusinessConsulting: political, economic and financial news lines, analytical materials, commentaries and forecasts, topical articles, up-to-date information on all sectors of the financial market, as well as broadcasts of the course of trade on top Russian exchanges. The primary sources of information include government institutions, leading Russian and international financial institutions, stock exchanges, banks, and major Russian and foreign corporations, whose activities are closely followed by RBC.
The first Russian business television channel RBC TV: economic, financial and political news from Russia and around the world; analytical reviews, forecasts and commentaries by experts; interviews with leading politicians and businessmen; business press reviews; special programs devoted to urgent problems faced by Russian businesses. RBC TV has established active cooperation with top western news TV channels, and is able to exchange its content with CNN and CNBC as part of partnership agreements.
At present, RBC TV reaches a business audience in Russia of up to 40 million people. Its broadcasting territory includes 13 cities in Russia with a population of more than 1 million. RBC TV broadcasts to more than 20 industrial and business centers in our country, the CIS states, including Kazakhstan, Ukraine and Belarus, and the Baltic states.
Online newspapers:
The daily business analytical newspaper RBC daily analyzes the situation in various industries of the Russian economy, and top national companies.

The daily tabloid Ytro.Ru is an informative and analytical publication, a perfect combination of the best traditions of printed media and the advantages created by the Internet.
Specialized Internet resources
RBC.Rating - production and publishing of financial and consumer-driven ratings. Rankings and rating lists of various economic industries and businesses, corporate profiles, data on financial institutions and markets of Russia and industrial countries.

Quote.ru - a universal online product for the investment community that brings together financial data feeds: news lines and commentaries, quotes and other stock market information, databases, archives of analytical surveys from top investment companies; over-the-counter markets; graphical instruments and exchange terminals.

QuoteTotal - an informative and analytical system launched specially for financial market experts from major banks and investment companies. The terminal brings together all important information resources and structures them in accordance with the latest market demands.

Market research - surveys of various Russian markets conducted by top national consulting companies.

Business for sale - an online platform where a person can easily sell or buy a business (fully or partially) in any industry on the territory of the Russian Federation, as well as speed up the solving of bankruptcy-related problems, and ensure wise and profitable capital spending.

CNEWS - a daily online edition about hi-tech, and recent hardware and software novelties, as well as the conditions of e-business in Russia and globally.

AutoNews - a resource where drivers meet with automotive professionals (up-to-date information about new car makes, automotive companies, and auto service news).

Sport.rbc.ru - exclusive sports news from Russia and around the world.

5ballov.ru - an educational portal with news, ratings of educational institutions, tests and essays.

Headhunter.ru - a good job-search engine.

Turist.ru - a travel portal. Up-to-date information on the latest offers from travel agents, assistance with paperwork, and the sale of plane and railway tickets.

RBC' seminars shop is set to help Russian companies and individuals to obtain information about business courses, training and conferences on a wide range of topics. The project was launched in October 2003.
Special initiatives
RBC group occupies a leading position on the Russian market of business information, providing its audience with the largest volume of financial information from Russia, the CIS and western countries. RBC boasts the most impressive business audience among Russian mass media sources (over 2 million people). The total audience of all RBC's resources exceeds 4 million people.

"The Company of the Year" annual national business award The main aim of this project is to draw the attention of world business circles to leading Russian companies, while boosting investment activities. Previous awardees include: Gazprom, Interros, LUKoil, MDM-Bank, Russky Aluminum and Severstal.

"The Person of the Year" annual national award

The main aim of this project is to support integration between people, businesses and the government. Speaker of the upper chamber of the Russian parliament Sergei Mironov, Russian economy minister German Gref and scientist Zhores Alferov have received this award in the past.

Every year the Grand Prix awardees receive a "Glory of Motherland" decoration, which is listed in the state public decorations register of the Russian Federation.

"BEST BRAND/EFFIE" annual national award

The main aim of this project is to improve the role of efficient marketing and marketing communications in Russia. Previous awardees include: Mercedes, BMW, McDonald's, Sun Interbrew and Sony.

RBC's international business forums

The main objective of these forums is to foster ties between Russian and foreign business circles to ensure Russia's deeper integration into the world economic community.

Top Russian and foreign businessmen and influential government officials always participate in RBC's forums.

"Russia and South Africa - Business on Emerging Markets"
(Cape Town, November 2005)
"Russian and Ukrainian Business under New Conditions: Risks and Prospects"
(Gstaad, March 2005)
"Expansion of Capital: From National Economies to a Transnational Economy"
(Hong Kong, November 2004)
"Russia's Investment Outlook for a New Presidential Term"
(Davos, March 2004)
"Russian Economy and Investments: Reality and Outlooks"
(Vienna, June 2003)
"Economic Summit of Russia and Europe: New Perspectives for Investment Collaboration"
(Amsterdam, November 2002)
IT
RBC is one of the leading software developers in Russia. RBC Soft develops IT projects of various complexity as well as a whole range of services, from pre-project research to implementation and technical support.
R&D
Software development
Corporate solutions
Services (market surveys, system integration, maintenance and technical support)
System integration
Mass services (web hosting, registration of domain names, SSL certificates, e-commerce).
RBC's two business branches, i.e. media and IT, support each other, creating a synergy. RBC is the only Russian company mentioned among the 500 fastest-growing technology companies in Europe, the Middle East, and Africa on the Deloitte Technology Fast 500 list. Over the past year it has leapt from 72nd position to 43rd.